About Us
Brenda Harman
Brenda Harman is a very practical, yet whimsical person who enjoys rural life and working with her hands. A horse trainer at heart, Brenda has developed a talent for braiding, weaving and knot tying over the years. It is this experience that led her to explore Appalachian style brooms as an art form.
Brenda immensely enjoys the concept of a functional unique piece of art that is both beautiful and timeless. The physical work of crafting Appalachian Hand-Tied brooms soothes Brenda's practical side, while her creative side is fulfilled by designing the various types of brooms and brushes. The unlimited number of uses for the brooms she creates is an added bonus.
Brenda begins a broom by scouring the woodlands and countryside for interesting handles. The handles, mostly hard wood or deer antler, are solid and rich in character. Once selected, Brenda begins sorting the broom corn looking for the best fiber. Broom corn belongs in the sorghum family and she utilizes some home grown sorghum as visual accent pieces. Traditional means of tying and weaving creates a range of forms and designs that make up the basic shapes of her brooms.
Each broom has a functional job, but Brenda can be as creative as she wants. The details are what makes each broom interesting. Brenda finishes each broom by testing its quality and durability. She does this by performing a stress test of whacking each broom against a solid object, such as a big tree.
Appalachian style brooms call up memories of yesteryear for Brenda. The intricate plaiting (weaving) and sewing patterns are as varied as her artistic imagination. Working with natural materials appeases all of her senses and Brenda takes the most joy in watching Mother Nature's gifts transform into functional works of art. All of the brooms Brenda creates blend the perfect balance of art, function, character and hard work.
David "Woody" Harman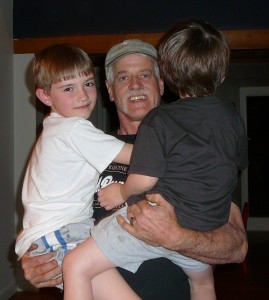 Woody is a self-taught blacksmith. He creates both functional and whimsical pieces of ironwork. Woody has been smithing for more than 35 years and still finds immense pleasure in creating a piece of art from the unyielding iron. His creativity has increased over the years, but whenever he gets in a slump for ideas, he just saddles up and goes for a mule ride.
Woody, a cancer survivor, does not let anything keep him down. He uses a coal forge similar to ones used in days of old. The physical work reminds him of the simpler life of a blacksmith from past generations. Using the same techniques from long ago, he fires up the forge to get the metal at a red hot heat and then hammers it into shape on an anvil. Many of his wrought iron creations are inspired by nature.
Rusty, old metal is recycled into ornate, usable items for the hearth and home. Leaf shaped wall hooks, door hinges, thumb latches and pulls, and hoof picks are crafted from worn out horseshoes. A farrier's rasps becomes a slithering snake with scales when heated and worked on the anvil. It is the detailed finishing work that makes each wrought iron piece a treasure.
Currently, Woody is forging all of the ironwork in his home. Each functional piece of iron work including door hinges, latches, cabinet and drawer pulls will be replaced with ironwork hand forged by Woody. He has added unique pot racks, hooks and towel bars to the home's kitchen and baths.
The fireplace has trivets, trinkets and tools with a matching crane to create a working fireplace. In fact, every room sports some ironwork. Even a boot scraper for the horseback riding guests can be found on the back porch.